PAWEŁ JAKUBOWSKI – Chairman of the Management Board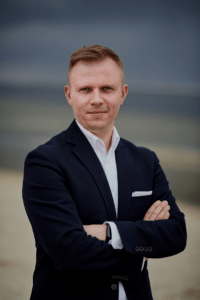 Manager, expert for 15 years connected with the energy industry. He started his professional career in the Ministry of Economy, where he was responsible for supervising key diversification projects in Poland, i.e. the LNG Terminal in Świnoujście and gas supplies from Norway. In 2007-2009, he worked in the Polish Oil and Gas Company S.A. in the Research and Development Office.
In 2009, he joined Gaz-System S.A., where he was involved in the development of the company's long-term strategy and in the ownership supervision over Polskie LNG S.A. As Director of the Development Division, he was responsible for the development and implementation of a long-term investment programme for new gas infrastructure in Poland, in particular the so-called Northern Gate. He negotiated the business framework of the Baltic Pipe project with partners from Denmark and Norway, which culminated in the signing of a transmission contract. He was also responsible for the development of cross-border connections with Lithuania, Slovakia, Czech Republic and Ukraine.
In 2017-2018 he was a Member of the Board of ENTSOG European Network of Transmission System Operators for Gas in Brussels.
From 2017 he was associated with Polskie LNG S.A. where he held the position of Managing Director, and from 2018 he was CEO. During this time, the company has significantly improved its performance in the reception and unloading of gas tankers from all over the world, as well as loading of tankers. An additional service of loading LNG onto ISO-containers was launched. He was responsible for the preparation, launch and implementation of the LNG Terminal Extension Programme in Świnoujście.
A graduate of Warsaw University of Technology, Faculty of Public Administration. He completed postgraduate studies in project management organised by the Warsaw School of Economics. He holds TenStep Project Management certificate no 10147. Participant of the High Potentials Leadership Program at Harvard Business School in Boston (USA).